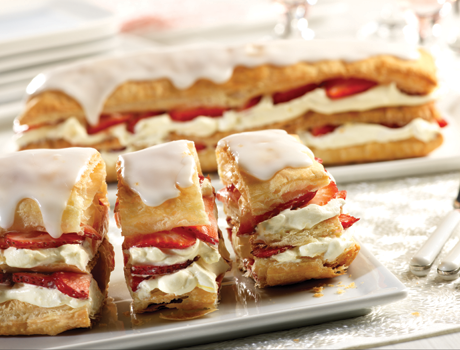 Strawberry Napoleons
This stunning dessert tastes as good as it looks! All it takes is one sheet of puff pastry, sliced strawberries and a very easy-to-make vanilla mousse. A thin layer of icing tops it all.
Thaw:

40 minutes

Prep:

25 minutes

Bake:

15 minutes

Chill:

10 minutes

Cool:

10 minutes
Recipe
Ingredients
2 tbsp.

all-purpose flour

1/2

of a 17.3-ounce package

Pepperidge Farm® Puff Pastry Sheets (1 sheet)

1 pkg.

(about 3 1/2 ounces)

instant vanilla pudding and pie filling mix

1 cup

heavy cream, whipped or 2 cups thawed frozen whipped topping

1/2 cup

confectioners' sugar

1 1/2 cups

fresh or frozen sliced

strawberries
Directions
Heat the oven to 400°F. Line a baking sheet with parchment paper.

Sprinkle the work surface with the flour. Unfold the pastry sheet onto the floured surface. Cut the pastry sheet into 3 strips along the fold marks. Place the pastry strips onto the baking sheet.

Bake for 15 minutes or until the pastries are golden brown.  Remove the pastries from the baking sheet and let cool on a wire rack for 10 minutes. Split the pastries into 2 layers, making 6 layers in all.


Prepare the pudding mix according to the package directions with 1 cup milk in a large bowl. Fold in the whipped cream. Cover and refrigerate for 10 minutes. To make icing, stir the confectioners' sugar and 2 teaspoons milk in a small bowl.

Spread the icing on 2 top pastry layers. Spread 3/4 cup pudding mixture on 4 pastry layers. Top each with about 1/3 cup strawberries. Stack 1 strawberry-topped layer onto a second one to make 2 stacks. Top each stack with an iced pastry layer. Serve immediately or cover and refrigerate up to 4 hours.  Cut each Napoleon into 6 pieces.

Helper: For easier slicing, refrigerate the Napoleons for a least 1 hour and use a wet serrated knife.

Serving Suggestion: The pastries may be drizzled with 1 square (1 ounce) semi-sweet chocolate, melted, before serving.

Recipe Note: Parchment paper keeps the pastry from sticking to the baking sheet and also makes for easier cleanup. If you don't have parchment paper, you can spray the baking sheet with cooking spray instead. However, cooking spray may cause the bottoms of the pastries to brown more quickly, so begin checking for doneness 5 minutes early.
Watch a how-to demonstration of this recipe technique.
Watch the demo to see how to make this type of recipe, then consult your recipe for specific instructions.
Tip
Previous tip
If you want a flaky thin and crispy pastry that's not very puffy, prick the unbaked Puff Pastry all over with a fork, which lets steam escape while baking.
When using an egg wash, be sure it doesn't run down the cut sides of the pastry, as that will make edges stick together and stop the pastry from rising.
If bubbles appear on the surface while baking Puff Pastry, prick with a fork to deflate them.
Remove only as many pastry sheets as you need. Wrap unused sheets in plastic wrap or foil and return to the freezer.
Next tip
share your
Twist!
How do you make this recipe your own?