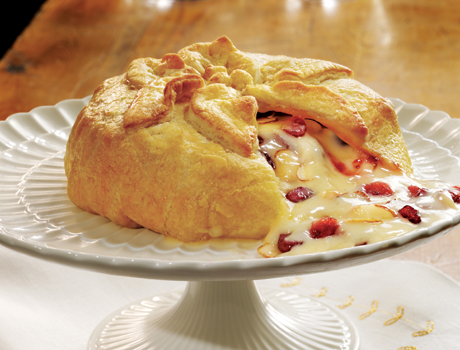 Holiday Brie en Croute
This pastry-wrapped soft cheese, topped with cranberries, apricots and almonds, is great for the holidays but it's so good, you'll want to serve it year-round.
Thaw:

40 minutes

Prep:

15 minutes

Bake:

20 minutes

Stand:

45 minutes
Recipe
Ingredients
2 tbsp.

all-purpose flour

1/2

of a 17.3-ounce package

Pepperidge Farm® Puff Pastry Sheets (1 sheet), thawed

1/2 cup

apricot preserves  or seedless raspberry jam

1/3 cup

sweetened dried cranberries

1/4 cup

toasted sliced

almonds

1

(13- to 16-ounce)

Brie cheese round

1 pkg.

(13 ounces)

Pepperidge Farm® Cracker Favorites
Directions
Heat the oven to 400°F. Beat the egg and water in a small bowl with a fork.

Sprinkle the flour on the work surface.  Unfold the pastry sheet on the work surface. Roll the pastry sheet into a 14-inch square. Spread the preserves on the pastry in a circle about 1/2-inch larger than the cheese. Sprinkle with the cranberries and almonds. Place the cheese in the center of the pastry. Fold the pastry up over the cheese to cover. Trim the excess pastry and press to seal. Brush the seam with the egg mixture. Place seam-side down onto a baking sheet. Decorate with the pastry scraps, if desired. Brush with the egg mixture.

Bake for 20 minutes or until the pastry is golden brown. Let stand for 45 minutes. Serve with the crackers.

Flavor Variation: For Brie en Croute Provençal, omit the preserves, cranberries and almonds.  Stir 1/4 cup diced jarred sun-dried tomatoes, 2 tablespoons olive tapenade and 2 tablespoons toasted pine nuts in a small bowl.  Spoon the mixture in the center of the pastry sheet.  Top with the cheese and proceed as directed above.
Watch a how-to demonstration of this recipe technique.
Watch the demo to see how to make this type of recipe, then consult your recipe for specific instructions.
Tip
Previous tip
Don't try to manipulate Puff Pastry that's not completely thawed; unfolding it while it's still frozen could tear the sheet.
When cutting Puff Pastry, the sharper the knife or pastry cutter, the better. A dull edge can cement layers together and prevent pastry from rising.
Try to keep Puff Pastry from becoming too warm when working with it by only using your fingertips—the coolest part of your hands.
Use an egg wash to help seal filled pastries and connect Puff Pastry pieces: mix 1 egg plus 1 tsp. water, brush between layers, then pinch or press together.
Next tip
share your
Twist!
How do you make this recipe your own?