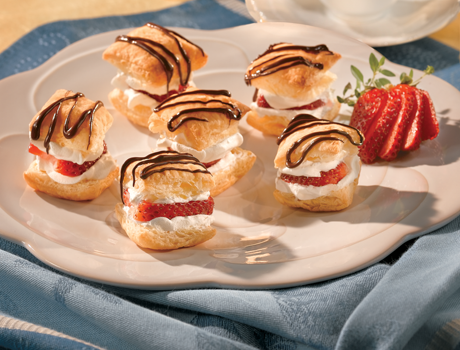 Petit Fours Berry Shortcakes
Golden puff pastry is layered with sweet strawberries and whipped cream, and drizzled with melted chocolate to make this delectable dessert.
Thaw:

40 minutes

Prep:

15 minutes

Bake:

15 minutes

Cool:

10 minutes
Recipe
Ingredients
1 1/2 pt.

fresh

strawberries, cut into 36 slices (about 3 cups)

1/2

of a 17.3-ounce package

Pepperidge Farm® Puff Pastry Sheets (1 sheet), thawed according to package directions

1 container

(16 ounces) frozen

whipped topping, thawed or 4 cups sweetened whipped cream

2 sq.

(1 ounce each )

semi-sweet chocolate, melted
Directions
Heat the oven to 400°F.

Toss the strawberries with the sugar in a medium bowl.

Unfold the pastry sheet on a lightly floured surface. Cut the pastry into 3 strips along the fold marks. Cut each strip into 3 squares, and cut each square into quarters, making a total of 36 (1 1/4-inch) squares. Place the squares 1-inch apart on greased or parchment-lined baking sheets.

Bake the pastries for 15 minutes or until they're golden brown. Remove the pastries from the baking sheets and cool them on wire racks.

Split each pastry into 2 layers. Spread 1 tablespoon whipped topping on each of 36 bottom layers. Top each with 1 strawberry slice, 1 tablespoon whipped topping and a top pastry layer. Drizzle the chocolate over the pastries.

Ingredient Note: For 4 cups sweetened whipped cream, beat 2 cups heavy cream, 1/4 cup sugar and 1/2 teaspoons vanilla extract in a large bowl with an electric mixer on high speed until stiff peaks form.

Alternate Preparation: For holiday celebrations with a red- white-and-blue theme, use a combination of 1 1/2 cups each strawberry slices and blueberries and divide evenly among the pastries.

Recipe Note: Parchment paper keeps the pastry from sticking to the baking sheet and also makes for easier cleanup. If you don't have parchment paper, you can spray the baking sheet with cooking spray instead. However, cooking spray may cause the bottoms of the pastries to brown more quickly, so begin checking for doneness 5 minutes early.
Watch a how-to demonstration of this recipe technique.
Watch the demo to see how to make this type of recipe, then consult your recipe for specific instructions.
Tip
Previous tip
Once Puff Pastry is thawed, work quickly while it's still cold. You can cut it into desired shapes, then store in the fridge until you're ready for the next step.
If you don't have a pastry brush, you can use the tip of a rolled-up paper towel or your fingertip to apply egg wash.
Helpful Puff Pastry tools: Rolling pin, pastry board, sharp knife and/or pizza wheel to cut dough, pastry brush, baking sheets or parchment paper.
For extra-thin, crisp Puff Pastry, set a second baking sheet on top of the filled pastry before baking.
Next tip
Inspiration
Top any dessert with shaved chocolate for a gorgeous presentation.
On Social Media, Use

#

Puff

pastry
share your
Twist!
How do you make this recipe your own?