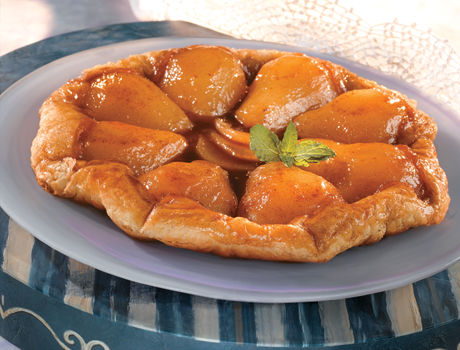 Pear Tortetta
This rustic dessert features ripe pears seasoned with lemon juice, sugar and cinnamon sitting atop a crust of Pepperidge Farm® Puff Pastry, baked until the pears are tender and the pastry is golden.
Thaw:

40 minutes

Prep:

25 minutes

Bake:

25 minutes

Cool:

5 minutes
Recipe
Ingredients
1/2

of a 17.3-ounce package

Pepperidge Farm® Puff Pastry Sheets (1 sheet), thawed

1/3 cup

packed

brown sugar

4

medium ripe

pears, peeled, cored and cut in half

3 tbsp.

margarine, softened
Directions
Heat the oven to 425°F.  Stir the granulated sugar, brown sugar and cinnamon in a small bowl.  Brush the pears with the lemon juice.

Spread the margarine in the bottom of a 10-inch oven-safe skillet. Sprinkle with the sugar mixture.  Arrange the pear halves in the skillet, cut-side up, with the tapered end of the pears towards the center of the skillet.  Cook over medium heat for 8 minutes or until the sugar mixture is thickened.  Remove the skillet from the heat.

Unfold the pastry sheet on a lightly floured surface. Roll the pastry sheet into a 13-inch circle. Place the pastry over the pears and tuck the sides in lightly around the pears.

Bake for 25 minutes or until the pastry is golden brown.  Cool in the skillet on a wire rack for 5 minutes.  Carefully invert the tortetta onto a serving plate.

Tip:  When inverting the tortetta, make sure to use oven mitts and hold the skillet and plate firmly together.  If any pears stick to the skillet, just remove them and arrange them on the tortetta.
Watch a how-to demonstration of this recipe technique.
Watch the demo to see how to make this type of recipe, then consult your recipe for specific instructions.
Tip
Previous tip
The kind of pan you use can affect baking times. A nonstick or dark glazed baking sheet may bake faster, so adjust your time and check pastry while baking.
If your Puff Pastry becomes soft and sticky while working with it, chill it in the fridge for a few minutes. Place in the refrigerator between rollings, too.
Always flip and place the cut side of the Puff Pastry down on the baking sheet.
You can thaw Puff Pastry in the fridge. Separate and place each sheet on a plate, cover with plastic wrap and defrost in the refrigerator for about 4 hours.
Next tip
Inspiration
Juicy pears come in many varieties. Make sure to eat the skin – it's especially high in nutrients.
On Social Media, Use

#

Puff

pastry
share your
Twist!
How do you make this recipe your own?