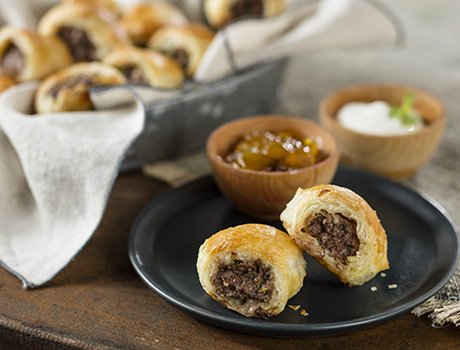 Minted Lamb Puff Pastry Bites
For your next party or get-together, think about serving these elegant and tasty appetizers.  They feature slices of puff pastry filled with a savory mixture of ground lamb, garlic, green onions and fresh mint, with yogurt or chutney for dipping.
Thaw:

40 minutes

Prep:

20 minutes

Bake:

20 minutes

Chill:

30 minutes
Recipe
Ingredients
2

green onions, finely chopped (about 1/4 cup)

1/3 cup

minced fresh

mint leaves

1 dash

ground

black pepper

2 tbsp.

all-purpose flour

1/2

of a 17.3-ounce package

Pepperidge Farm® Puff Pastry Sheets (1 sheet), thawed

1 1/2 cups

plain yogurt and/or mango chutney (optional)
Directions
Stir the lamb, green onions, mint and garlic in a medium bowl and season with the black pepper.

Sprinkle the work surface with the flour. Unfold the pastry sheet on the floured surface. Roll the pastry sheet into a 12 x 10-inch rectangle. Cut the rectangle crosswise into 3 (10 x 4-inch) strips. Brush the pastry strips with the egg.

Spoon 1/3 of the lamb mixture lengthwise down the center of each pastry strip. Fold the long sides of each pastry over the filling, overlapping slightly, and press to seal. Place the pastry rolls seam-side down on a baking sheet. Cover and refrigerate for 30 minutes or until the pastry rolls are firm.

Heat the oven to 425°F. Line a baking sheet with parchment paper. Cut each pastry roll crosswise into 8 pieces, making 24 pieces in all. Place the pastries onto the prepared baking sheet. Brush the pastries with the egg.

Bake for 20 minutes or until the pastries are golden brown. Serve the pastries with the yogurt for dipping, if desired.

Recipe Note: Parchment paper keeps the pastry from sticking to the baking sheet and also makes for easier cleanup. If you don't have parchment paper, you can spray the baking sheet with cooking spray instead. However, cooking spray may cause the bottoms of the pastries to brown more quickly, so begin checking for doneness 5 minutes early.
Watch a how-to demonstration of this recipe technique.
Watch the demo to see how to make this type of recipe, then consult your recipe for specific instructions.
Tip
Previous tip
Don't try to manipulate Puff Pastry that's not completely thawed; unfolding it while it's still frozen could tear the sheet.
When cutting Puff Pastry, the sharper the knife or pastry cutter, the better. A dull edge can cement layers together and prevent pastry from rising.
Try to keep Puff Pastry from becoming too warm when working with it by only using your fingertips—the coolest part of your hands.
Use an egg wash to help seal filled pastries and connect Puff Pastry pieces: mix 1 egg plus 1 tsp. water, brush between layers, then pinch or press together.
Next tip
Inspiration
Fresh mint leaves add color and fresh flavor to any dish.

Green onions (or scallions) are great, raw or cooked, for adding a mild onion flavor to dishes.
Fresh mint leaves add color and fresh flavor to any dish.

Green onions (or scallions) are great, raw or cooked, for adding a mild onion flavor to dishes.
On Social Media, Use

#

Puff

pastry
share your
Twist!
How do you make this recipe your own?